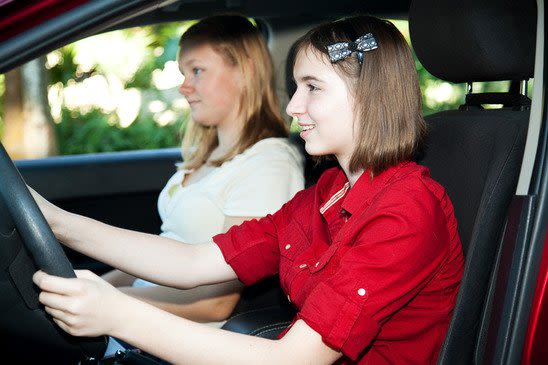 What Factors Increase a Teen's Risk When Driving?
---
As excited as a teen may to finally gain the privilege to drive, they will never be fully prepared for the dangers the roadway brings with it until they have acquired enough driving experience. Unfortunately, there are many hazards present on Ohio roads and many teens simply aren't looking out for them which puts them more at risk of engaging in an accident. While some teens don't consider speeding to be risky or think they can text and drive, they often don't understand the true danger they are putting themselves in when they don't employ safe driving practices.
The reality is, teens are twice as likely as adults are to engage in a wreck which makes vehicular accidents the leading cause of teen deaths today [Source: Science News for Students]. In fact, The Columbus Dispatch recently reported on a single-vehicle collision involving four teens that occurred back on September 26th. The source stated that the four teenagers had been out driving in a 1997 Chevrolet Blazer on Brown Road in Franklin Township at around 6:40 p.m. An unknown factor caused their vehicle to lose control and it ended up going off the left side of the road. The passenger doors struck a tree, resulting in one of the teens being thrown from the vehicle.
When police arrived at the accident scene, they found the injured teens, two of which were stuck inside the vehicle. Firefighters and paramedics had to extricate the two teens and transport all four to the Ohio Health Medical Center. All were said to have been in critical condition. One of the teens, who was identified as Cory McGruder, 16, was pronounced dead shortly after arriving at the hospital. The other teens did survive, but one still remained in critical condition after being treated by doctors. The remaining three teens who survived the wreck were identified as Christian Bednarz, 18, who was the driver, Ezekiel Atkinson, 18, and Casey McGruder, 16.
Although officials did not disclose what factors contributed to causing this particular accident, there are a number of reasons why it could have occurred starting with teen inexperience. The fact is, "no matter how careful they are, all teen drivers start off inexperienced." Aside from inexperience, there are other things that place teen drivers at risk when behind the wheel which include:
1. Comfortability. According to Science News for Students, "the more comfortable teens get behind the wheel, the more likely they are to text or engage in other risky behaviors."
2. Driving with friends. When a teen opts to have friends ride along with them, it only increases their chances of becoming distracted while driving, especially when those friends are risk-takers.
3. Teens are spending time on their phones. Cell phones have become the top distraction for all drivers, including teens. The few seconds a teen takes to read a text or compose one is enough time for them to rear-end the vehicle in front of them or veer off the roadway. Aside from texting and driving, teens are also spending time on apps such as Instagram and Snapchat.
There are plenty of other factors that increase a teen's risk while driving and it is important that you review them with your teen so they know what behaviors they must avoid.
If your teen was involved in an accident in Columbus that they caused or was caused by another motorist, it is best to contact Columbus, OH auto accident lawyer E. Ray Critchett. Your teen may be entitled to recover compensation for the pain and suffering they have had to endure, even if they were partially responsible for causing the wreck. In the event your teen was a passenger inside another teen's vehicle who engaged in a collision, our office can help you take appropriate action to ensure the driver is held responsible for your teen's damages.
To learn more about how we can help you and your teen get through this difficult time, contact E. Ray Critchett, LLC at 740-282-5393.
You can reach E. Ray Critchett, LLC at:1071 S. High StreetColumbus, OH 43206740-282-5393