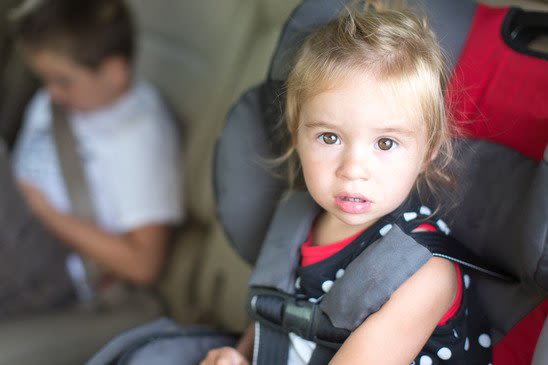 Study Reveals Child Slime Toys May Not Be Safe for Kids to Play With
---
If you have children, nieces, nephews, or work around kids, then you likely know about the "slime craze" that is going on. Kids today are absolutely obsessed with slime toys and the viral Instagram and Facebook videos seem to only make it more popular among children. In nearly every store, slime sits on the shelves, waiting for parents to purchase it. And while it might be one of the more exciting toys that can be bought, a recent study is revealing that some of the slime products on the market today could actually be dangerous to your health.
A U.K. based charity, which goes by the name of Which?, tested 11 slime products and what they found was rather disturbing. Of the 11 popular slime products, "eight contained unsafe levels of boron." Boron is a "chemical element found in borax, which gives slime products their stickiness."
Why is it dangerous to be exposed to boron?
According to Newsweek, when a person is exposed to excessive levels of boron, they might experience skin irritation, diarrhea, vomiting, and even stomach cramps. And here's where it gets really concerning. If you come in contact with high levels of boron, it "could impair fertility and harm fetuses in pregnant women." Which? is now urging parents "to approach slime with caution" as "most products have minimal safety labeling and information about ingredients. Some products carried the CE safety mark, despite carrying higher than recommended boron levels."
Although the organization is not implying that all slime toys are unsafe, they are merely pointing out there are limits set as to how much boron can be used to create a product. Currently, the European Union has set its limits to 300 mg/kg of boron and while the "U.S. doesn't have restrictions or limits on the use of boron in children's products, toys must meet international safety standards." In the event they don't, they will be deemed hazardous and aren't to be sold.
What products did Which? test that had higher limits of boron?
If you're wondering what products the organization tested, below we are providing you with a list of them, although they allegedly were already taken off the market.
We also want to point out that these slime products were able to be purchased on Amazon.
Toysmith Jupiter Juice (pink), Amazon – 1,400mg

CCINEE Fluffy Slime (pink), Amazon – 1,000mg

Cosoro Dodolu Crystal Slime Magic Clay (pink), Amazon – 980mg

Baker Ross Mini Bucket Putty (green), Amazon – 930mg

iBase Toy Slime Toy (purple), Amazon – 860mg

LOYO Fluffy Slime (blue), Amazon – 730mg

Brezeh Free Slime Toy (orange), Amazon – 560mg

Virtuotrade My Fluffy Slime (green), Amazon – 560mg
Now, if you're like most parents, you probably have a jar of slime sitting on your coffee table waiting for your child to return and play with it. But, with this latest study, you may want to conduct some research of your own into what ingredients were used to create the slime toy before you allow your child to play with it again.
When a company or manufacturer chooses to create products with unsafe levels of chemicals and fails to warn consumers of these amounts, they put them at risk of being harmed. And if you were recently harmed or developed an illness by a defective or hazardous product, contact Columbus, OH personal injury attorney E. Ray Critchett. Our firm will review the details of your incident and determine if you qualify to file a personal injury lawsuit against the company. In the event you do, our firm will gladly represent you in the legal process and fight for an outcome that is in your favor.
To get an initial consultation scheduled so that we can sit down and discuss your matter.
Visit or call E. Ray Critchett, LLC at:1071 S. High StreetColumbus, OH 43206740-282-5393