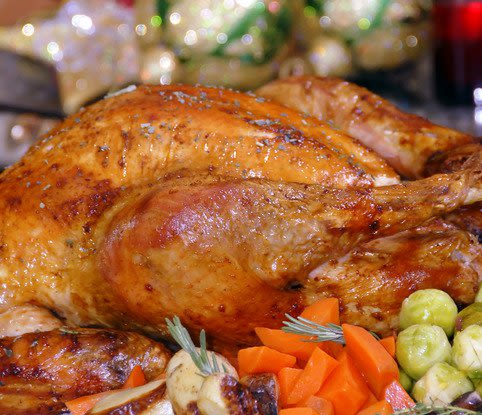 Massive Turkey Recall Issued, Outbreak Could be "Widespread in the Turkey Industry"
---
With Thanksgiving just a few days away, it is important that you are made aware of the recent recall that has been issued for raw turkey products. Fox 13 Now recently reported that the "U.S. Department of Agriculture's Food Safety and Inspection Service has recalled turkey products linked to a salmonella outbreak." After samples of certain Jennie-O-Turkey products were tested for salmonella, the reading came back positive for an outbreak strain.
The source says that as a result of the positive readings, Jennie-O-Turkey Store Sales, LLC had to recall 91,388 pounds of raw ground turkey products. The samples that had been tested were from a September 11, 2018 production and the products were shipped nationwide. The US Centers for Disease Control and Prevention first announced to the public back in July that there had been an outbreak of salmonella linked to raw turkey products, although no recall was issued. However, over the course of the past few months, more and more people have gotten sick. So far, there have been a total of 164 cases involving individuals falling ill in 35 states. The news outlet highlighted that one person in CA has already died from the illness and 63 others have been admitted to the hospital.
Now, because there had been a few cases back in November 2017, the CDC is saying that the outbreak "might be widespread in the turkey industry." However, Patch.com did highlight the potentially contaminated batches of raw ground turkey you need to keep an eye out for and they are as follows:
1-lb. packages of "Jennie-O GROUND TURKEY 93% LEAN | 7% FAT" with "Use by" dates of 10/01/2018 and 10/02/2018.

1-lb. packages of "Jennie-O TACO SEASONED GROUND TURKEY" with a "Use by" date of 10/02/2018.

1-lb. packages of "Jennie-O GROUND TURKEY 85% LEAN | 15% FAT" with a "Use by" date of 10/02/2018.

1-lb. packages of "Jennie-O ITALIAN SEASONED GROUND TURKEY" with a "Use by" date of 10/02/2018.
The products that have been recalled also contain the establishment number "P-190" inside the USDA mark of inspection.
The CDC also warns that because tests have come back positive for live turkeys and pet food, you may want to be careful if you plan to buy a frozen turkey this Thanksgiving holiday. The agency has shared some safety tips for those planning to handle raw turkey and they include: "Wash your hands after touching it. Cook products thoroughly to avoid getting sick. Thaw turkeys in the refrigerator, not on the counter." Although it is a tradition for many to cook a turkey on Thanksgiving, while you still can, it is essential that you take precautionary measures to avoid consuming potentially contaminated foods.
What are some signs of salmonella poisoning?
Now, if you begin to notice you are developing a fever, are suffering from diarrhea and stomach cramps, and you notice these symptoms are lasting for a few days, then you may have been exposed to salmonella. While your body is usually able to recover without seeking medical attention, it is best you visit your physician if your symptoms are severe or don't seem to be getting better.
If you have recently gotten sick from a food product you consumed in Ohio and you believe it was contaminated, contact Columbus, OH personal injury attorney E. Ray Critchett to find out if you have a viable case on your hands. Under certain circumstances can an individual who has eaten contaminated foods file suit against the company who made or handled the product in order to recover compensation for the damages they sustained. To find out whether your case qualifies you to take legal action, contact our office today by calling 740-282-5393.E. Ray Critchett, LLC can be reached at:1071 S. High StreetColumbus, OH 43206740-282-5393