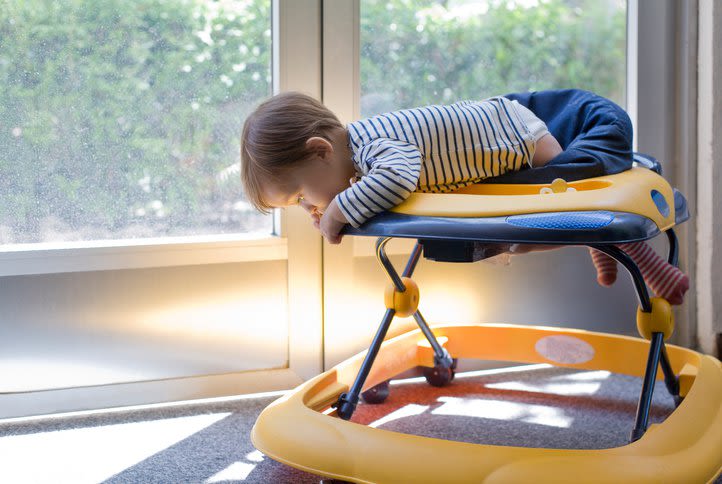 What Makes Infant Walkers So Dangerous?
---
Infant walkers are one gadget many parents have used for decades as they introduce the concept of walking to small children who are not quite ready to take their first steps alone. While most think nothing of placing their baby in an infant walker, we are here to share with you some information relating to why these gadgets pose as a threat to your little one when the proper safety precautions are not put into place. In fact, because of the numerous injuries small children have already sustained while in their walkers, the American Academy of Pediatrics (AAP) has even requested that they are banned from being manufactured.
Why are infant walkers unsafe?
Some of the reasons why infant walkers can and have become hazardous to a child's health and well-being include:
The child can fall down the stairs if they aren't blocked off from that area. All it takes is for a small child to maneuver over to the stairwell that isn't closed off or for them to brush up against a safety gate that is not sturdy enough for them to fall down the stairs in their walker. Between 1990 and 2014, 74.1% of 230,676 children under the age of 15 months suffered an injury after falling down the stairs in their infant walker, according to the AAP.

"Infant walkers give young children access to environments and objects that they might not otherwise be able to reach." For example, they could get close to a hot oven and potentially burn themselves, grab sharp objects, or ingest household poisons.
The fact is, while walkers may have helped children "develop the ability to walk independently," they still pose as a potential threat to their health and life. That is why children should never be left unattended to roam around while inside their walker. And if you want to let your baby move about freely, be sure anything that can serve as a potential hazard is out of their reaching distance.
Should I purchase an infant walker for my baby?
While infant walkers have yet to be banned, the American Academy of Pediatrics says the warnings to parents continue to be ineffective and that more than 2,000 injured children are admitted into emergency departments each year for the injuries they sustain in a walker. While evidence suggests that infant walkers may not be safe, it doesn't mean a parent cannot purchase one of these for their child.
But, should you choose to allow your small child to practice their walking skills with an infant walker, be sure you are always around and attentive to what your child is doing. While many parents might be inclined to blame the manufacturer of these gadgets when their child gets hurt, you only have a viable product liability claim on your hands when you can prove the manufacturer was at fault for causing your child's injury as they created an unsafe or defective product.
Now, if your child ever does sustain an injury while using a small gadget or playing with a toy in Columbus, OH, before taking any sort of legal recourse on your own, it is best you contact Columbus personal injury lawyer E. Ray Critchett. Our office will gladly provide you with all the information you need in regards to filing a product liability claim in Ohio and even represent you given you have a valid reason to file one.
You can reach E. Ray Critchett, LLC at:1071 S. High StreetColumbus, OH 43206740-282-5393