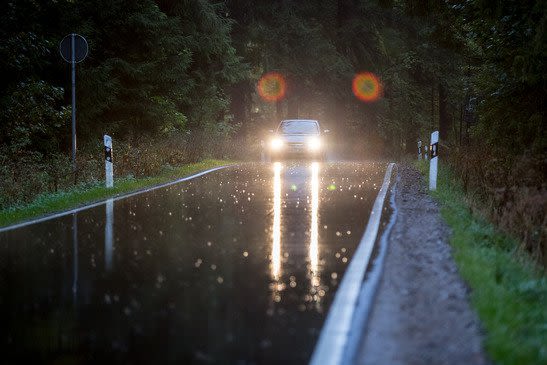 Columbus Teen Killed After Losing Control of His Vehicle on US 23 and Colliding into Truck
---
April 9th was a difficult day for the family of 17-year-old Thaddeus Laurol of Columbus, OH. ABC 6 On Your Side reported that Laurol was driving a 2007 Toyota Camry heading north on US 23 near mile marker 1 in Orange Township when tragedy struck. The source stated that Laurol lost control of his vehicle, crossed the center lane, and was struck in the southbound lanes by a 2014 Ford F150. Laurol was transported to Riverside Methodist Hospital where he later passed away. Neil G. Berberick, 58, who was the driver of the Ford, suffered minor injuries as a result of the collision and was treated at the scene.
Officials stated that both drivers were wearing their seatbelts at the time of the accident and an investigation was being conducted to determine what caused the teen to lose control of his vehicle. Laurol was a senior at Columbus Northland High School and was a member of Karl Road Baptist Church. Many were shocked to learn of this young man's death as he had a bright future ahead of him. A member of the church spoke to the news source and said that he was a good kid, he excelled in athletics, and was a confident teen.
Sadly, Laurol will never have the chance to attend college, pursue his dreams, or have a family of his own.
Did you know that nearly 3,000 teens were killed in car accidents in 2016?
Although officials have not yet provided further details as to why this unfortunate accident occurred, it serves as a reminder to all other teens that the roadway is a dangerous place and caution must always be exerted while driving. The fact is, driving isn't what it used to be years ago. In today's day and age, we have vehicles that come fully equipped with innovative gadgets, cell phones that keep us connected with the world, and fleets of self-driving vehicles being tested in various states. And with so much more to distract our teens, it appears many more seem to be losing their lives to auto accidents today. According to teensafe.com, six teens between the ages of 16-19 suffer fatal injuries in auto accidents every day.
Teensafe.com also stated that 11 teens die every day as a result of texting and driving. And cell phones aren't the only things that contribute to a fatal accident occurring. Underage drinking is another issue teens need to be aware of as well. In 2014, 17% of teen drivers who were involved in fatal accidents had a BAC level that was above the legal limit. So, if you have a teen who is just beginning to drive, or they have been driving for a few months now, be sure you reiterate to them just how dangerous it is to drive distracted as well as drunk. Too many teens have sustained serious injuries and others have lost their lives all because someone decided to engage in inappropriate behavior.
And if your teen was recently injured in a car crash, it is important that you speak with a personal injury attorney in Columbus as they do have rights in the matter. Whether your teen was the cause of the collision or another driver was behaving negligently, Columbus, OH personal injury attorney E. Ray Critchett may be able to help you recover compensation that can make this difficult time a little easier to get through.
You can contact E. Ray Critchett, LLC. at:
1071 South High Street
Columbus, OH 43206
740-282-5393